Raji: An Ancient Epic Newsletter#1
Greetings, this is our very first newsletter


First of all, we thank you for subscribing. In this newsletter we have packed up some of the progress that we've made in our game so far. Hope you have fun watching and reading through.
Gameplay


Below we give you a sneak peak of basic movement and a basic attack. It has been challenging and fun to find appropriate references for our first weapon Trident which is also known as Trishul in the Indian subcontinent.
The lore of the game states that the Trishul is a weapon gifted to Raji from the goddess of war herself, Goddess Durga. The Trishul beholds the element of lightning, which empowers Raji in ways she is yet to discover.
Right now, we are working towards implementing the AI and it's behavior, which we can say has been coming along quite well. The AI behavior for two of our demons has shown us that the gameplay is heading in an interesting direction.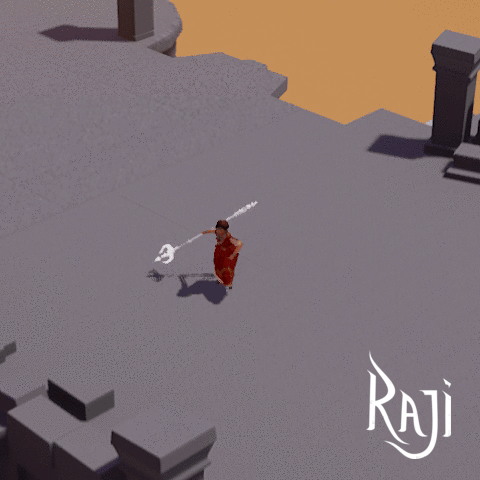 Art


In-Game Have you been waiting to see more of the artstyle or the universe of Raji after what you saw in our teaser? Wish no more, we present you our first in-game footage, a ruined mountainside hand painted temple arch, covered with typical flora. The atmosphere suggests that the heavy storm has passed, though there's elements of distant rumblings.
Environment Concept Art It's been exciting to see the environment concept art take shape for our game. Firstly, our talented concept artist resides in Jaipur, Rajasthan. Those of you who don't know yet, Rajasthan is a state in India with mesmerizing medieval architecture, which became hugely influential to our game concept. Hence a mutual understanding and an instant connection was made. The game's universe allows us to have unique level locations which are only limited to one's imagination.
Below is the in-game footage and concept art, hope some of these can serve as your desktop wallpaper :) 
New Website & Our First Dev Blog


Please take a few minutes to have a look at our new website www.rajithegame.com. If you had already subscribed for our newsletter from noddingheadsgames.com you don't need to subscribe again.
Until Next Time
We're having loads of fun working on the project, we'll be sharing more about the project in the coming newsletters. until then we'd love to hear from you guys, your thoughts on the project and if you've enjoyed the newsletter. Share the love and stay connected.
Cheers,
All from Nodding Heads Games
#RajiTheGame #Raji #NoddingHeadsGames #Newsletter #News #Devblog #Devnote